Our feed mill can mix custom formulations for all your needs! Come in or call today to ask how we can serve you.
About George County Co-Op
We are a farmer owned cooperative serving George, Greene, Jackson, Perry, Mobile, Stone, and Washington counties. We offer a wide range of agricultural products including but not limited to fertilizer, feed, seed, chemical, lime, fencing supplies, and home and garden products.

Our management and employees have years of experience and expertise in everything agriculture related and love to share it with whomever will listen. We pride ourselves on our family atmosphere and getting to know our customers on a personal level.
We are here to provide you not only with the best products, but also the best service. When you shop with us you are not a customer, but a piece of the Co-Op family. We are constantly working hard to make your experience one that will bring you back home.
Market Information Survey
Please take a few minutes to fill out the survey below. Your information is completely confidential and will help us learn how we can better serve you!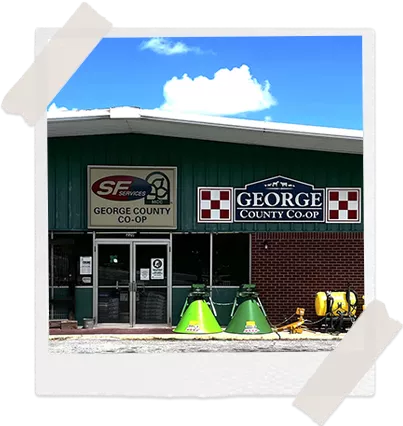 Lucedale, MS
220 Depot St. Lucedale, MS 39452

Phone: (601) 947-8145

Mon, Tue, Thu, Fri: 7AM-5PM
Wed, Sat: 7AM-12PM
Sun: Closed
Looking to Join the Herd?
Apply for Membership with Us
Download and complete the application linked below, and bring it into the store. We're glad to have you!